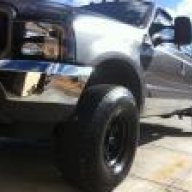 Joined

Dec 25, 2005
Messages

131
Reaction score

0
Location
It sure didn't take long for my 180k mile stock transmission to disagree with the DP Tuner. Anything over 75% throttle and it starts to slip.

Although it is only slipping slightly right now, I know things are only going to get worse.

I've talked to a very reputable local transmission builder that claims he can build a transmission that matches BTS and ATS for strength. I'm taking him at his word. He has worked on my truck as well as my friends vehicles and has always done a fantastic job. He has been building race transmissions for 35+ years. His price for the build and install was about $3,500.

For BTS, I know the reputation that they have for building awesome trannies. Are they able to ship a transmission to a shop near me for the install or do I have to take the truck to them? Also is $5k still near the going rate?

In regards to ATS, how do their stage 2 transmissions compare to BTS? ATS is just up the road from me which gives them the advantage over BTS if I have to take the truck to them.