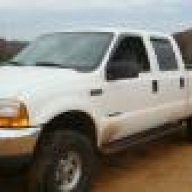 Joined

Jan 19, 2010
Messages

1,206
Reaction score

0
Location
I went over to my mechanic's shop this evening to have him to check out my belt and why its riding over my compressor pulley (broken spring on the tensioner). Then we started talking about the new 6.7. He told me a lot of stuff about it....but I wanted to share this bit with whoever has one. The turbo is set to blow off pressure with the wastegate at 30psi. The wastegate is actuated by a vac line. Cremp the vac line (so they did) and they got 10+ more psi out of it. He also confirmed that the truck is designed to where you dont have to take the cab off for normal repairs....he went into some funny stories about lock-tite and the 6.0.

Just some other random info I got.....

If the uritha tank runs out the truck will just idel, if the fuel or oil pressure gets low, then the truck will not allow you to run full power, each injector is coded to a certain cylinder...so to test another injector in another cylinder you have to go into the computer and change the code at that cylinder. And if the truck is running sluggish, take it out of transport mode.

He said he knows a guy that pulled a 17,000 5th wheel from north to south Alabama and got 17mpg. I WISH I GOT THAT!!!!

He was told they might as well get use to being a maytag repair man.