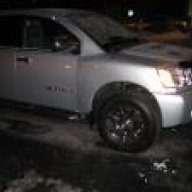 Joined

Mar 24, 2006
Messages

1,502
Reaction score

0
Location
OK Ladies and Gentleman!!
This was fun....NOT!
Let me first start of by saying i had all kinds of trouble trying to get this sucker out. I first spun it so the tabs were away from the bolt holes. Then:
1. tried prying up w/ all kinds of screwdrivers...no luck
2. took an old shoe lace and made a loop and used a BFS for upwards pull leverage...no luck
3. more screwdrivers...nope
4. take my moms car (she was over) to northern to look for curved type screwdrivers - not much luck.. i found a small pry bar and bought a door panel/christmas tree removal tool too thinking that may help...
5. get home, find father over now. eat lunch, explain to him what/why i was doing. show him the page of how/why what i was doing. go outside, mess around w/ it some more...no luck.
6. father comes out to see what i am doing. (grabs the brake removal tool i had (tried) and the new little pry bar i just bought & asks me if i have 2 of the same tool - nope is the answer). now here is the fun part, IN THE TIME IT TAKES ME TO WALK FROM THE FRONT OF THE TRUCK AROUND TO MY DRIVERS DOOR - HE SAYS "ITS OUT".....
7. i say B.S. and he says come look, pull it out....sure as chit, i climb up the step ladder look over the intake elbow, grab it and lift it out...
8. let me tell you i fussed and messed around w/ this for 2 hours and he does it in about 2-3 seconds....



9. holy crap was it bad.
no way in the world did i think it was that bad. i cleaned it all up and put it back..
10. now do i PLUG IT IN or NOT? that is my question to you all!!!
all in all, 1 hours time w/ removal, cleaning, and clean up and install....just gotta have 2 'lady slippers' or equal "up" pressure and pop -out she comes. it had 32,954 miles on it since it was done at head gasket time
ENJOY

egr removal and cleaning :: egr removal and cleaning slideshow by red60-no - Photobucket
Last edited: